Consultations and treatment generally last between 45 min to 60 min depending on each individual case and treatment required.
MEDiHOME CARE COSTS:
Consultation, assessment and treatment prices are based on location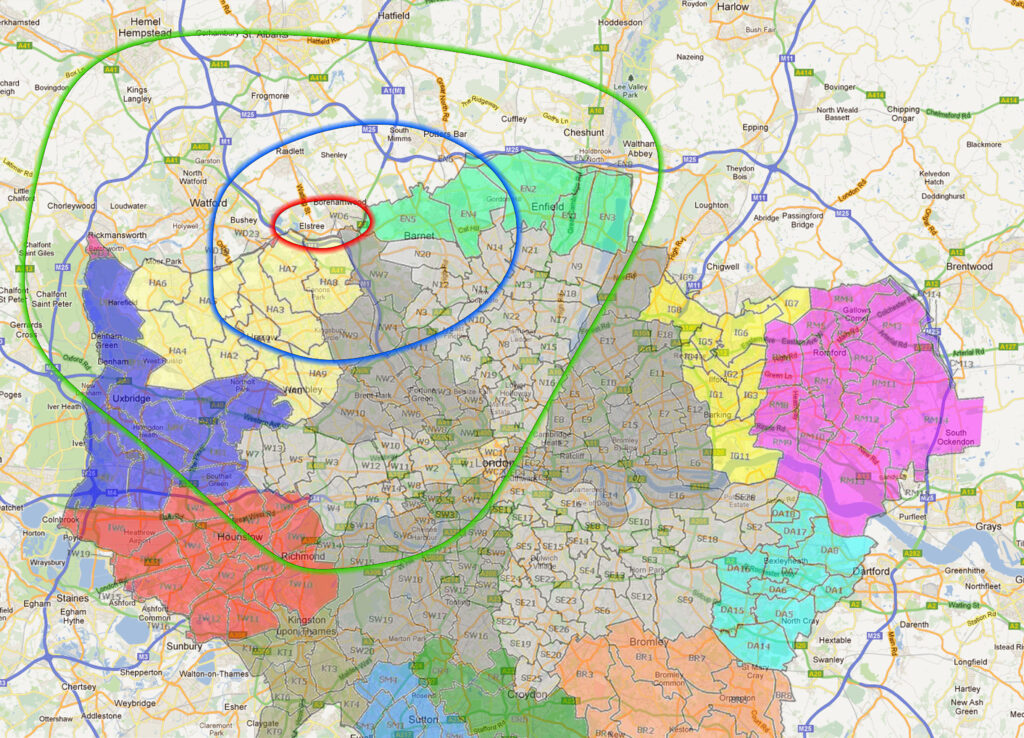 Red Area:
£80 (45-60mins) 
Blue Area:
£100 (45-60mins) 
Green Area:
£180 (45-60mins) 
MEDiCLINIC
£80 (45mins) 
MEDiKX
£165 (60mins) 
MEDiCORPORATE
Rates negotiable dependent upon number of employees (Please contact us for more information).
*Treatments after 8pm, on the weekend or bank holidays will be charged an out of hour's fee of £20ph
DRY NEEDLING / ACUPUNCTURE
20-30 minutes per session £45

SPORTS MASSAGE TREATMENT
45 minutes per session £75
EMERGENCY CALL OUTS (these are not scheduled MEDiHOME Visits)
Emergency callouts to homes, work, sports venue £200
TREATMENT PACKAGES (please contact for more information)
Maternity Care Package -treatments focusing on musculoskeletal changes after your first trimester up to giving birth
Maternity After Care– helping you to return to normal after pregnancy, improving your body and fitness
Active Care Package – regular treatment in intervals of weekly/fortnightly/monthly as a preventative to avoid injury, improving your body and fitness

Medical Insurance
Covered by most premium health insurance providers (if unsure please contact your company directly). All insurance claims will have to be pre authorised by your insurance company; some of which may require you to be signed off from your GP. Some insurance companies will not cover the full treatment costs so please check with your provider first.
Cigna 000HU17958 | Axa PPP No.DK01374 | Aviva No. 600061800 | Bupa UK. 30046760 | Bupa Int. 416152 | WPA: 921008328 | Allianz Health: SP101317 | VitalityHealth No.6422 | WPA No.921008328
APPOINTMENT TERMS & CONDITIONS : 
At least 24 hours notice is requested if you need to cancel or change your appointment. Otherwise the late cancellation costs will be charged as follows:

Cancellation or change of treatment times within 24 hours of your booking will incur a charge of 50% of the full treatment value. If you fail to show for the appointment, your treatment(s) will be charged at full cost. If part of a booking is cancelled or changed after arrival, the full cost of the treatment(s) as booked will remain payable.

Patients are reminded that this is at the discretion of KapaMediCare and any booking made (verbal or written) forms a legally binding contract.
Insurance consultation, assessment & treatments will be priced as above.
*patients will be required to pay in full for their treatment at the time of the booking and can claim for the treatment. Please note that not all insurance companies will cover the total cost of treatment; contact your insurance provider to find out more information.

How to cancel or change your appointment: Cancellations should be made 48h hours before your appointment by emailing written confirmation to . If you are cancelling outside of normal operating hours you may cancel by text message to +44(0)7932993195.
For all appointment enquiries please contact:
KAPA MEDiCARE
Mobile: +44 (0) 7932993195